Cream City Ribbon Spiral Bracelets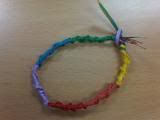 It's never too late to show your friends your gratitude and love for them. Let the any day of the year be all about friends and the special bond you have with them. Cream City Ribbon offers ribbons made of 100% natural cotton, responsibly grown and dyed in the US with water based dyes. This
biodegradable
ribbon is non-woven, and bound with non-toxic adhesive.
We also have
custom ribbons
that may be printed on, using inks that are soy based and non-toxic. You can choose what you want us to print on your ribbons, or you may write on the ribbons yourself using gel pens and sharpies, or stamp pads and ink. You may even rub on letters and use your inkjet printer for your own personalized ribbons.
Because of the unique and natural properties of the Cream City Ribbon,
you can curl it, tie it, shred it, fold it, cut it, quill it, or do anything you want with them
. These ribbons are very strong, and have been used in various industries to tie things together for a number of years. Go ahead. Grab both ends and see if you can break it.
Cream City Ribbon, given these properties, is ideal to be used for making friendship bracelets for your friends or children. Show your friends that they are special. Give them a small token that you made using your own hands, with your own design based on how much they mean to you, or how you know them. All you need is a few yards of your Cream City Ribbon, a couple hours of your time, and voila! You've made your friend a bracelet to show that their presence in your life is something you treasure.
Make a variety of bands and bracelets that you can give away to your friends. Cream City Ribbon recommends using various colors, designs, and prints for your bracelets. Here is another set of simple instructions you can follow to make your friend a gorgeous bangle using Cream City Ribbon.
Spiral Bracelets
Materials:
•Cream City Ribbon of various designs and colors
•Scissors
•Large beads that can fit through all the strands (optional)
Step 1. Gather three strands of ribbons, each of a different color.
Step 2. Shred your Cream City Ribbon into strands around 3 mm each. This will give you a total of 12 strands. For this project, I used just a striped ribbon and shred it into each color.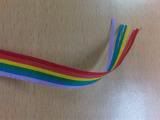 Step 3. Twine the length of your Cream City Ribbon to give it more texture. Spritz with water as you go along using an atomizer, to make it more pliant.
Step 4. Tie a knot on one end, leaving about 1 ½ to 2 inches.
Step 5. Start the body of your Cream City Ribbon spiral bracelet.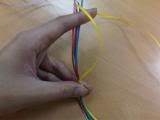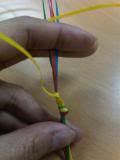 Hold the strands on one hand, and with your dominant hand, take one strand of your Cream City Ribbon as your working strand. Lay it over the group of ribbons you are holding (holding ribbon), and pass it under the holding ribbon, then through the loop that was made. Pull your working ribbon snugly. Do this repeatedly until you have made about an inch or so.
Step 6. String your bead through. If you decide to make the bracelet without beads, skip this step.
Step 7. Now that all your ribbons are in one group, get another ribbon (of a different color), and use this as your working strand. Repeat step 5 and 6 while alternating or switching colors. Make sure that your knots are snug and neat.
Step 8. When you have attained your desired length, tie your ribbons with a clean knot, and snip off. Leave around 1 ½ to 2 inches, to be able to tie it around your friend's wrist.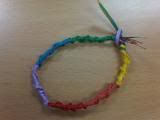 The great thing about making this friendship bracelet with your Cream City Ribbon is that your friend doesn't have to be extra careful with them. Cream City Ribbon may get wet, or may even be washed with mild soap, and the colors won't fade or rub off other fabrics. Even the print will not come off the ribbon once it is dry. With Cream City Ribbon, you can explore your possibilities.
Cream City Ribbon encourages recycling and using
materials that are earth friendly
.
Recycling materials is a great help to the environment, and is easy on the pocket.
As we celebrate friendship, let us also celebrate our friendship with nature.
Let's make friendship bracelets and bands using natural ribbons.
Show your friends you care about them and the environment.
Make your gift more meaningful with naturally beautiful ribbons.
Choose Cream City Ribbon.
Make "
THE NATURAL CHOICE
".
Go to our main website at
www.creamcityribbon.com
for orders and inquiries. E-mail us at ccr@creamcityribbon.com for
inquiries and orders.